home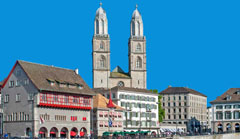 AEMFB is a venture capital fund based in Zürich, Switzerland. We help portfolio companies with business development, financing, M&A and other strategic development activities.
AEMFB stands for Advanced E-Commerce Management & Finance for Business. And this pretty much deciphers what we are doing as we do not simply seek to invest our funds in young high growth potential companies but are also actively involved in developing their business.
We are a group of seasoned professionals with decades of top management experiences in various industries including banking, e-commerce, automotive, insurance, packaging and telecom sectors. Our services range from arranging equity or debt financing to providing strategic advice and even up to assisting with the operational management of your business.
We invest in and manage European online businesses operating in various sectors. If you are an online business seeking both financing and business expertise and meet our investment criteria we would like to hear from you. For a starter, please send us your pitch deck (5-10 pages) providing your business description, problems you face and how you intend to solve them, your most recent balance sheet and financial forecast for the current and next years, key elements of your business plan and your financing needs.
Equally, we are interested to do business with potential investors, M&A and business development specialists interested by our portfolio companies.